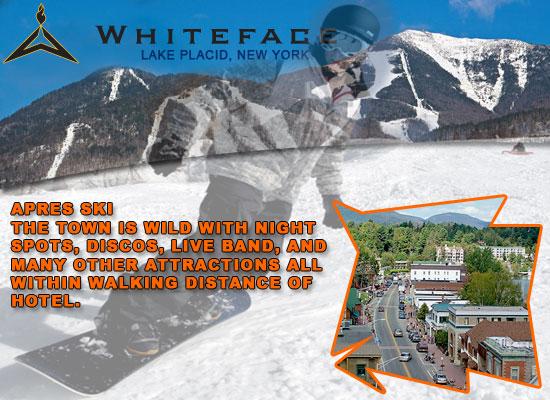 Round Trip Transportation on charged buses with video VCR - TV's and lavatory equipped.
Two (2) nights lodging at "THE COMFORT INN AND SUITES" in Plattsburgh, N.Y.
Two (2) Continental Breakfast
Saturday Night Dinner with a wide choice of Beef, Chicken, and seafood Dinner at "PERKINS RESTAURANT which is on the premises.
FREE use of ECLIPSE Fitness and Spa. The health club is the best equipped contemporary designed health club. Relax in the Sauna or Steam Room. Have a massage at a reasonable rate. Juice bar.
FREE USE OF THE INDOOR WATER PARK. Play around in the indoor water park with two (2) watersides - 105' and 80' ride length and splash into a pool.
USE of the FUNZONE ENTERTAINMENT CENTER. The FUNZONE is an indoor 6,000' square feet of fun indoors. Inside is a 50+ game arcade, a 9-hole glow in the dark miniature golf course, a batting cage, Papa-John's pizza dining area.
FREE entrance to "LEGENDS LOUNGE" large screen TV's for sport fans, with a fireplace.
SHOPPING MALLS walking distance from hotel.
Personalized itineraries of daily activities.
Pre-registration for Hotel on bus.
FREE transportation to and from slopes for Skiing, Snowboarding and Optional Activities.
All Taxes and Service Charge.
Non-Stop optional activities for Non-Skiers are available at extra charge, weather permitting.
Free hospitality counter at front desk where you can talk to host about activities available.
(For Groups of 10 or more people)
Lake Placid tour - stroll villages souvenir shops.
Toboggan chute (Aprox.) - Rates on request
Snowmobile Ride (Aprox.) - Rates on request
Dogsled Ride (Aprox.) - Rates on request
Ice Skating (Aprox.) - Rates on request
Hockey Games N/A
Whiteface Mtn. Ski Area
Lift Tickets, Lessons and Ski or Snowboard Rentals (available at extra charge)
One Day Lower MTN. Lift Ticket, 1 1/2 hour lesson, 1 day ski or snowboard rental - Rates on request
Junior (7 to 12 years old) All Day All Area Lift Ticket 1-Day N/A 2-Day N/A
Teen (13-19 years old) All Day All Area Lift Ticket 1-Day - Rates on request
ADULT (20 years plus) All Day All Area Lift Ticket 1-Day - Rates on request
Ski or Snowboard Rental per day - Rates on request
Chaperone Tour Leader - On all trips Chaperone's are available at an extra charge of $15.00 per person. Payable up front as bus arrives. Will be split with tour leader, bus driver and staff.


Rates For Entire Weekend Without Rentals Per Person - 3 DAYS / 2 NIGHTS
4 - $295
3 - $320
2 - $350
Rooms for 5 limited to one room for 5 per group
NOTE: (ROUND TRIP TRANSPORTATION). Rates are based on groups of 45 or more people. Add $15.00 per person for reservation of less than 45 people. For groups less than 35 people add $25.00per person. Groups less than 30 people add $30.00 per person.