Stay at the Georgian Resort in Lake George and enjoy the great skiing at Gore Mountain
OPEN BAR Program
**ADULTS ONLY**
8 hours of service $60 per person extra charge..
Winter Carnival:
February is Winter Carnival Month in Lake George. Come enjoy the beautiful scenery and join us in festivities including races on the lake, great food, and Live Entertainment.
Gore Mountain Trail Map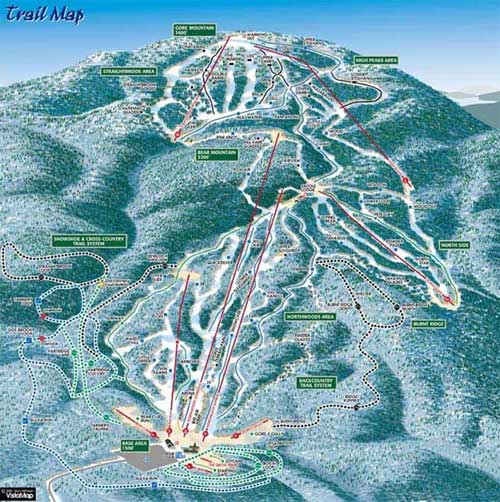 Round trip transportation on lavatory equipped motor coaches with VCR.
Pre-registration on bus before arrival.
Tour escort or Chaperones (by Mature Adults) Friday night on arrival a PIZZA PARTY And COMPLIMENTARY SNACKS.
Chaperone / Tour Leader are available at an extra charge of $10.00 per person. Payable up front as Bus arrives. Will be split with Tour Leader, Bus Driver, and Staff.
Two nights stay at the luxurious GEORGIAN RESORT with Lake Front accommodations - private bath, cable TV, on site restaurant, bar/lounge, located right in the Village of Lake George. (jacuzzi suites are also available at extra charge).
Special late check-out on day of departure.
Personalized Itineraries of the daily activities.
Transportation to and from slopes for skiing each day and optional activities.
Two all you can eat buffet breakfasts
One all you can eat buffet dinners
Live D.J. for DANCING
Discounted lift tickets, rentals and lessons
Free beginner Snowboard and Ski Lessons
All taxes and service charges are included.
Eight (8) hour open bar (for ADULTS only). Premium brand! Friday Night 11:00p.m. to 2:00a.m., Saturday Night 9:00p.m. to 1:00a.m. ($60.00 Additional Charge for Adults).

Non-Stop optional activities for non skiers (available at extra charge, weather permitting)
Free hospitality counter at front desk where you can talk to host about activities available.
Snowmobile ride
Horseback riding
Roller skating & Laser tag
Horsedrawn sleigh ride
Dogsled rid
Ice skating (bring your own skaters
Bowling Alley
Snow-Races
Ice fishing
Snow Tubing
Go hiking in the heart of the magnificent Adirondack Mountains. Hike up Prospect Mountain just minutes away
Stroll Lake George Village with it breathtaking views of the lake, souvenir, craft, and gift shops, amusement centers with video games, pinball machines and pool tables.
Club Hopping - Lake George Village offers exciting nightlife with live entertainment (King Neptunes Winter Carnival Center, Duffy's Irish Pub, and DJ's nightclub are just the few of the hotspots). Night time in Lake George provides fun for all ages.
Free Bus transportation and shopping tour of factory outlets. MILLION DOLLAR HALF MILE packed with famous names such as POLO, BASS, RALPH LAUREN, NINE WEST, TOMMY HILFIGER, NAUTICA, GAP etc.

Rates per person for entire weekend without rentals. 3 Days 2 Nights.
4 IN ROOM $270.00
3 IN ROOM $290.00
2 IN ROOM $300.00